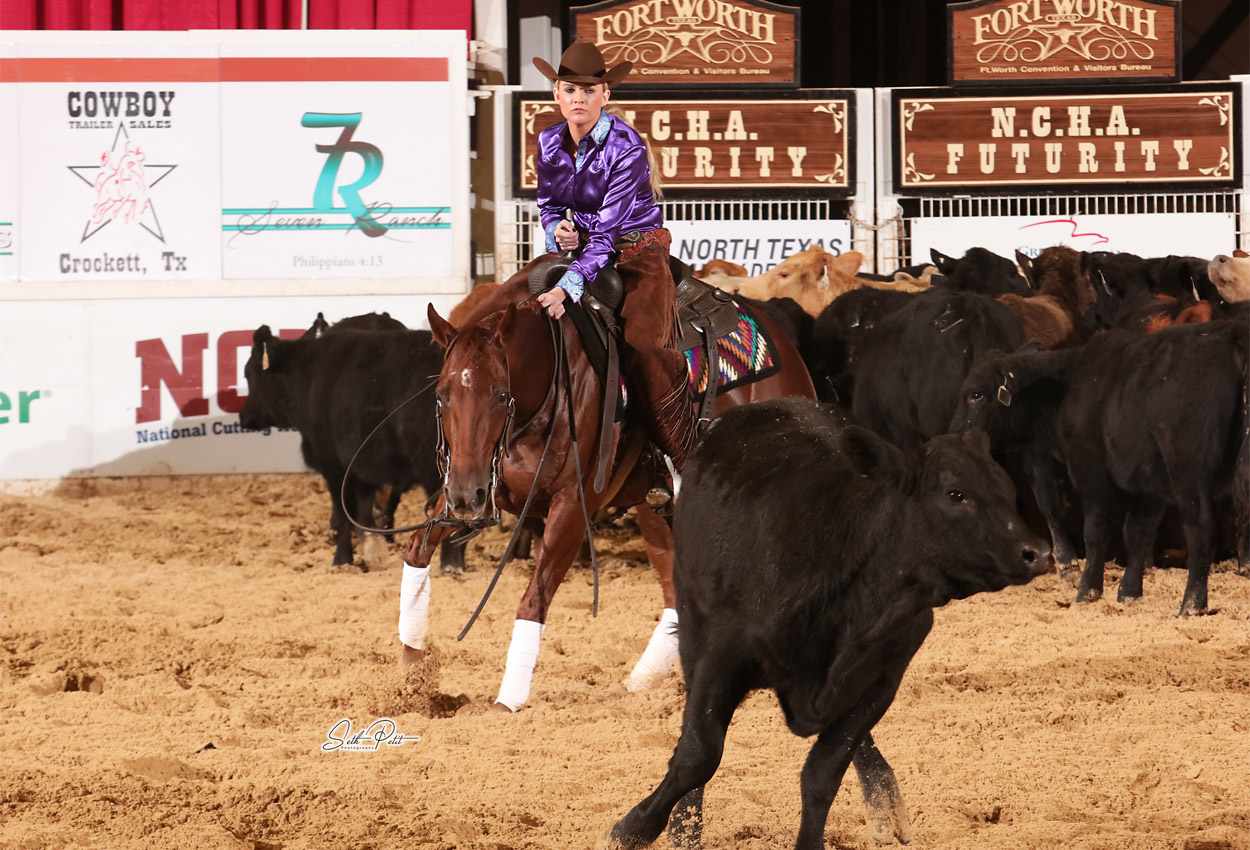 Two Horse-and-Rider Teams Share NCHA Futurity Non-Pro Title with 222s
When Kristen Galyean and Coureygous laid down a sizzling 222 from the second hole in the National Cutting Horse Association (NCHA) Futurity Non-Pro finals on Friday night, it was a dubious proposition anyone would catch her.
That is until Brandon Westfall stepped into the arena on the second of his two horses, I Reckon So.
That pair matched Galyean and her sorrel mare (Dual Rey x Highbrow Supercat x High Brow Cat), creating NCHA Futurity Non-Pro Co-Champions to conclude the marathon horse show.
Galyean was beaming afterward, saying the new buckle would be one of her favorites. Welsey Galyean, Kristen's husband, an Equi-Stat Elite $4 million rider, was beside himself with excitement for his wife's accomplishment.
"I've been blessed enough to get to ride Button Down Supercat, who was also out of [Highbrow Supercat], and many other babies out of [Highbrow Supercat], and they've all been super, super great horses. So anytime you get to ride one of them it's pretty special," Kristen said.
Welsey Galyean said they picked out Coureygous — bred by Cross Timbers Cutting Horses of Claremore, Oklahoma — as a weanling, liking her build and stopping power. She has spent her entire life in the Galyean program, being ridden by Wesley until Kristen took the reins at the beginning of the NCHA Futurity.
Kristen Galyean gained confidence throughout the rounds, making smart cuts with the help of her husband in her corner. When it came time to compete in the finals, the mare was primed and ready.
Coureygous is aptly named, earning the barn name "Warhorse" for her courage and desire to succeed in the cutting pen.
Quarter Horse News
by Lillian Kent
View article on QHN
Posted on
December 14, 2019