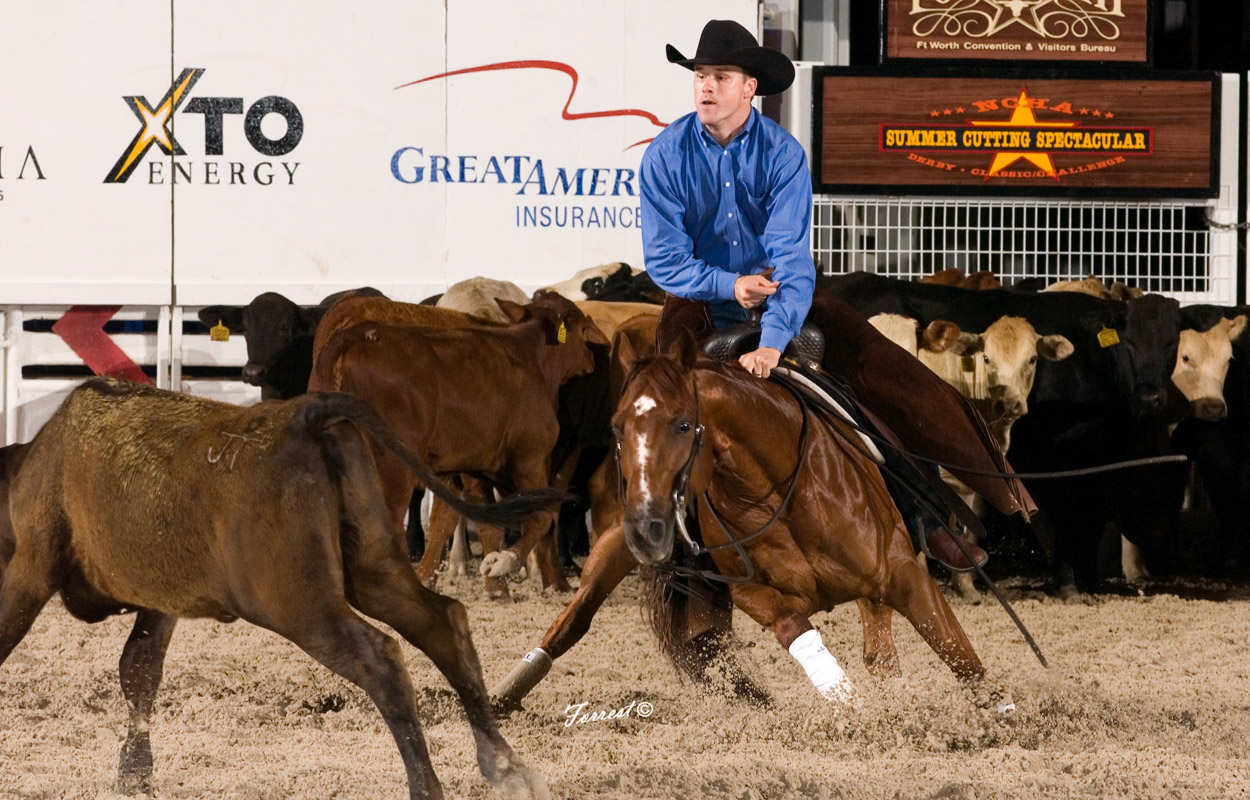 Hangem Cat Claims Tunica Futurity Open Derby
Winning was all in the family Friday evening at the Tunica Futurity and Classic in Tunica, Miss., when Wesley Galyean won the 4-Year-Old Open on Hangem Cat and Beau Galyean finished with the Reserve on Metallic Cat, the horse who already has the 2008 NCHA Futurity and 2009 Abilene Spectacular championships to his credit.
Both horses are by High Brow Cat. Hangem Cat, owned by Steven Feiner, Los Angeles, Calif., scored a 223 for $22,000. Metallic Cat, owned by Alvin and Becky Fults, Amarillo, Texas, finished with a 218 for $18,181.
The win was bittersweet for the Galyean brothers, both of whom are former NCHA Futurity winners. Earlier in the week, their grandfather, Travis Bruce, passed away from a heart attack. Bruce was their mother's father and he lived only about an hour away from Wesley and Beau. He actually taught Beau how to play golf, a passion Beau pursued professionally before he switched to cutting a few years ago.
"It was a big decision to actually stay here [in Tunica] and show," Wesley said. "We wanted to go home and be with my mom. But mom said there was nothing we could do and that we should stay here and do what we were supposed to do."
That was no easy feat.
"It was tough," Wesley admitted. "Even when you're going down there, you think about it; it goes through your mind. You just have to try to stay focused and do what you're supposed to do. He was a great grandfather. It was a hard blow to our family."
The brothers left first thing Saturday morning to be with their mother's family in Oklahoma.
Wesley was quick to credit the good Lord with his help during the 4-Year-Old Open finals at Tunica. From the way it happened, it seemed as though a higher power must have been on the side of at least one of the Galyean brothers. Beau and Metallic Cat drew up first in the first bunch of the finals and the two cut nicely, earning a 215-point score. After the second bunch concluded, however, it was announced that their score had been adjusted to a 219. That supposedly positioned the pair in third, behind Purdy Feather and Clint Allen, but unfortunately for Allen, his score was also adjusted – down to a 210.
Wesley was glad to accomplish a major title with Hangem Cat (High Brow Cat x Hangem High Playboy x Freckles Playboy). The two debuted at the NCHA Futurity last December in the Open division, where they marked a 217 in the first round and a 213.5 in the second, then in the semifinals they earned a 211 that put them just one placing out of the finals. The pair made the finals at the Abilene Spectacular.
At Tunica, Hangem Cat tied for second in the composite after the preliminary rounds, having posted 215.5 and 219.5 scores. In the finals, the pair worked ninth in the first bunch of 15 horses. They held steady all the way through 2 ½ minutes on three cows.
"He is kind of aggressive and he's very physical," Wesley said of the gelding's style. "He has a lot of reach and huge stop on him, just real athletic."
Hangem Cat was bred by Kenny McLean, Point Clear, Ala., and was sold as a yearling for $25,000 to Feiner in the second session of the Preferred Breeders Sale at the 2006 NCHA Futurity. According to Wesley, Feiner wanted to sell the horse about a year later and so Wesley stepped up to purchase the horse, which at the time was still a stallion. Although Hangem Cat was going strong by the end of his 2-year-old year, he did get distracted and wasn't tending to business in the early months of 2008, so Wesley decided to geld the promising horse. To this moment, Wesley is glad for the outcome, as Hangem Cat has made a solid performer who keeps his mind on cow business. In November of last year, Feiner bought back Hangem Cat.
Wesley, Ardmore, Okla., has earned $1.3 million on the cutting pen and he turned 26 right at the start of the Tunica Futurity on Feb. 3. His biggest single win was at the 2004 NCHA Futurity, where he rode Spots Hot to the Open Championship for $200,000. At that same show, he rode Spots Hot to a fourth in the Non-Pro for $42,151 and placed ninth on Classy Dualin for another $32,401. Galyean would have a spectacular run of success on Spots Hot, riding the stallion to $529,435 and then retiring him to the stallion barn. His first crop of foals is due to hit the show pen this year. Considering his success at Tunica, Galyean won the 2005 4-year-old Open on Spots Hot and the 2007 Non-Pro on Shes Icing Onthe Cat. Now, Galeyan is a professional and shows only in the open division. Wesley and his fiancé, Kristen Glover, are getting married on Valentine's Day in Oklahoma.
Quarter Horse News
By Katie Tims
Posted on
February 6, 2009