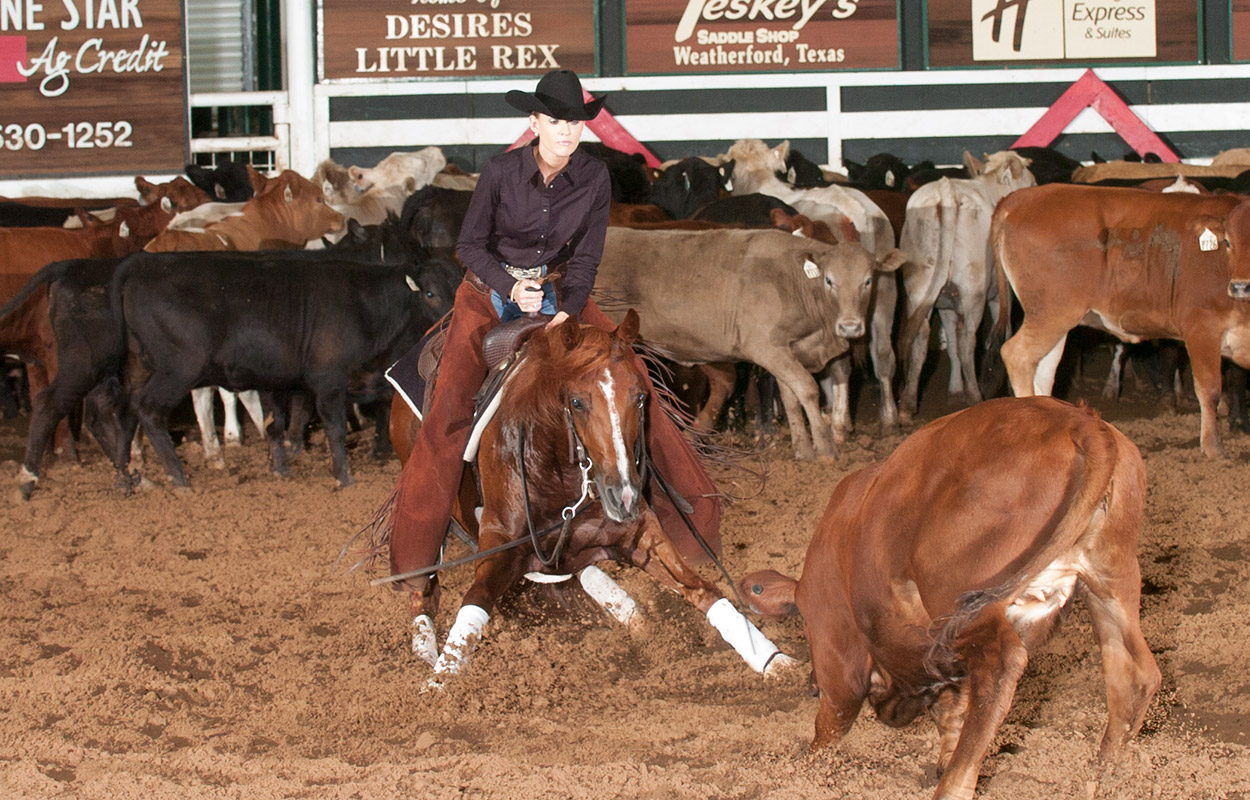 Harley Wows Again with Non-Pro Win
Imagine facing the biggest show of your cutting career.  You have drawn eight in the second – and last – set of the finals. After the teams in the first set have completed thier runs, you're waiting in the warm-up pen, poised to compete.
Your horse is ready and you're focused.  All of a sudden the lights go out, pitching Will Rogers Coliseum into darkness. Even the emergency lights don't work.  While you wait two hours for the electricity to return, some of the cattle in the arena lie down and go to sleep.
That's what happened July 31 during the Derby Non-Pro Finals of the 2010 NCHA Summer Cutting Spectacular.  When the power finally came on, the second set began after many exhibitors and spectators wondered if the rest of the event would have to be postponed until the next day.
Carl Smith and Mr Rister, his tall Mr Boonsmal To You son, posted a 218 from the third draw, the highest score so far int he finals that night.  Five teams later, Kristen Galyean and Harley, the electrifying Spots Hot gelding she owns with her husband Wesley, earned a 221.5 to take the lead that held to the end.
The score and championship were a career high for Kristen, who had claimed the Limited Non-Pro title with Harley at the Summer Spectacular 10 days earlier.  The pair was fresh off victory at the Breeder's Invitational, where they won the Derby Limited Non-Pro championship and tied for the Derby Non-Pro Reserve.
The Fort Worth wins pushed the lifetime earnings of the gelding out of Cattilion by High Brow Cat to more than $100,000.  Wesley also showed Harley as a semi-finalist in the Open Derby.
Having to wait during the black-out was difficult, Kristen admitted.
"I was so excited to make the finals," she said.  "I made the Non-Pro Derby finals in Fort Worth last year, but it didn't work out when I got run over.  When the lights went out, I thought, 'What does this mean? Am I going to get to show?' I was a little bummed out.
"I petted on Harley to make sure he was relaxed and checked on some horses in the stalls that were getting pretty hot.  I didn't chat with my friends; I just tried to stay focused.  Most of the time I sat in the cow box, thinking about the job I had to do."
When it finally came time for them to compete, their run was anything but easy, thanks to some especially challenging cows.
"I think tonight we had kind of a tough run," said Kristen, who has been cutting for only two years after competing in Western Pleasure and Western Riding.  "It had me sweating a couple of times.  Those cows were pretty testy, but Harley had me right there and wasn't about to give up.
NCHA Chatter
Posted on
August 10, 2010