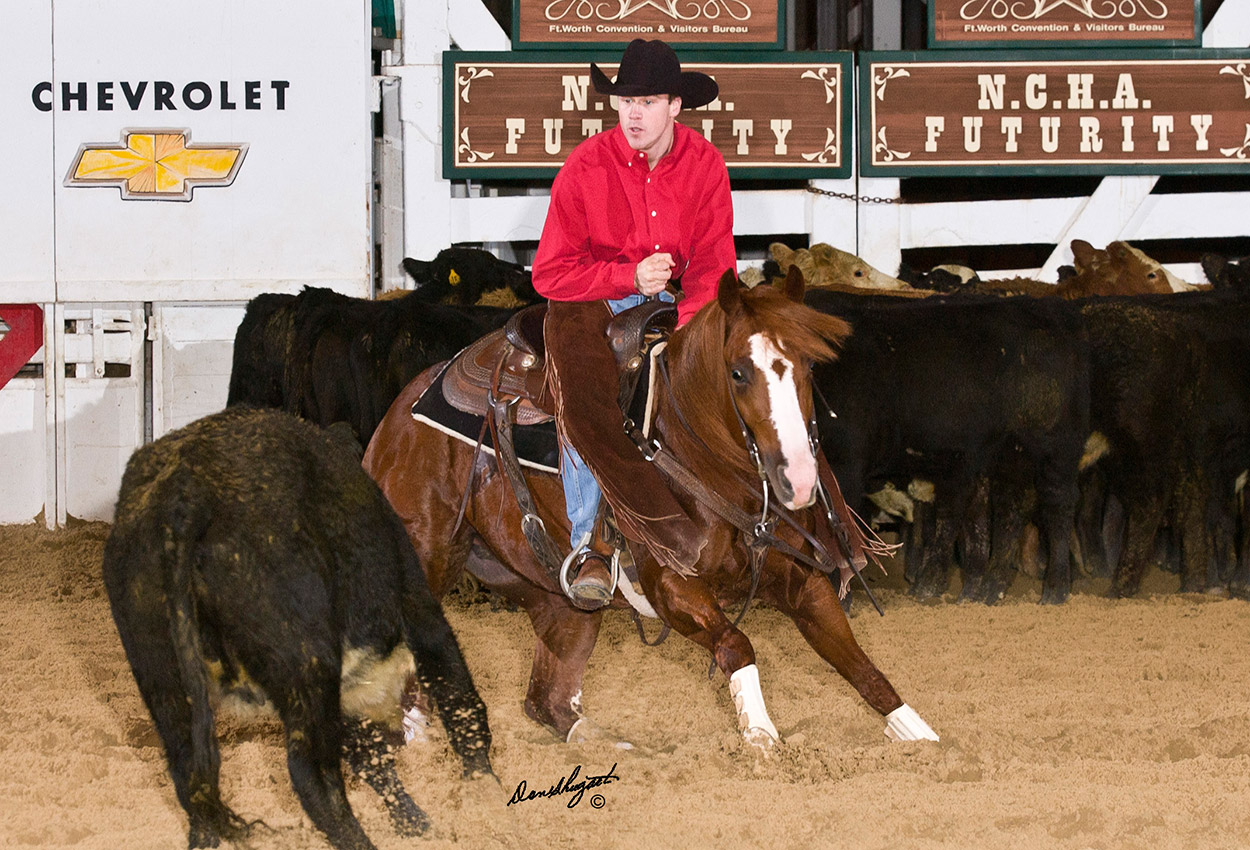 Spot On!
$200,000 win for Spots Hot and Wesley Galyean.
Non-Pro rider Wesley Galyean, 21, riding his stallion Spots Hot, scored a stunning victory in the NCHA Open Futurity. The win paid Galyean $200,000.
"I never guessed this would happen, but I always knew he was a great horse," said Galyean of the Chula Dual son he raised and trained himself. "His character is unbelievable. Every day he comes out and gives his all every time."
Galyean and Spots Hot were on the money with their first two cows, but it was the third that took them to the top and helped earn 225 points. They had won the Open Semi-Finals the night before with 223 points.
"There at the end, I was working that cow for what seemed forever," said Galyean. "It seemed like five minutes straight. But my horse kept right in there and never gave up.
"I just knew he wasn't going to let that cow get by him. I couldn't hear my helpers because the crowd got so loud. So I didn't know how much time I had left. I was just trying to stay in there and keep riding until I heard the buzzer."
Galyean and his brother Beau, and father, Jody, had been through a grueling and exciting three weeks of competition.
Altogether, the Galyeans earned more than $365,000. It was an unparalleled accomplishment in the sport's biggest and most prestigious event. In 2001, father and son, Ronnie and Tag Rice, Buffalo, Texas, placed first and second in the Open Futurity, but never have two members of the same family garnered three NCHA Futurity championships in the same year.
In addition to the Open Champion- ship, Wesley placed fourth, on Spots Hot, and ninth, on Classy Dualin, in the Non-Pro Finals. Jody, a professional trainer and former NCHA Open Futurity Champion, finished ninth on A Black Widow in the Open Futurity. Beau, 24, won the Limited Open Finals on Double Down Merada and placed another horse in that division; he also was Reserve Non-Pro Champion on Highlightcat.
Wesley and Beau are third generation horsemen. Their grandfather, Kenneth is a legendary Quarter Horse showman and trainer with hundreds of championship wins in halter and performance events. Jody has also been successful in a vari- ety of performance horse disciplines, but cutting is his forte.
NCHA Daily Chatter
Posted on
December 13, 2004